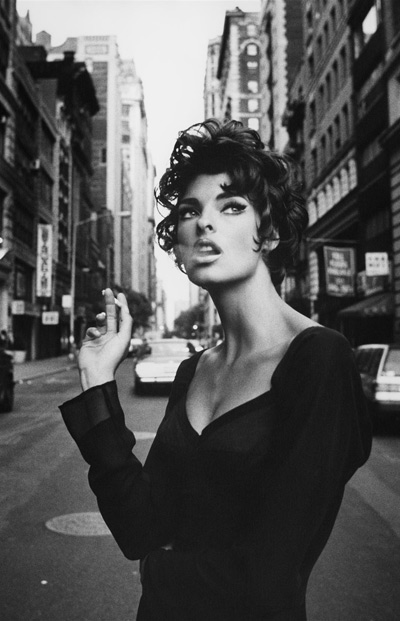 Linda Evangelista
In 2011, The New York Post reported that Evangelista's child was fathered by billionaire Frenchman François-Henri Pinault, the husband of actress Salma Hayek. One month later, on August 1, Evangelista appeared in Manhattan Family Court, seeking $46,000 in monthly child support from Pinault for her son, Augustin. | Photo: Aaron Stipkovich, StipkoPhoto.com | Linda Evangelista, Model, Salma Hayek, Child Support,
Surviving a drama-filled career with grace, on $46,000 mo
Supermodel Linda Evangelista's life resembles a drama-filled reality show. There is plenty of glitz and glam, but her personal life's bumpy road has been in the public eye as well. Somehow, she manages to rise to the top.

Ah, the life of a supermodel can be treacherous. Days full of fashion shoots or strutting yourself down the catwalk in the latest designer fashions. Men gawk at your feet as you make your way down the red carpet. Plus, these modeling icons get paid a lot of money.

But life at the top of the beauty and fashion world has its downside.

Supermodels often have little privacy in public. Tabloids and the media build up these models and sometimes enjoy tearing the down when they reveal that these women make mistakes and are actually human being beyond the airbrushed fashion pages and advertisements.

Canadian-born supermodel Linda Evangelista has had her fare share of diva-like behavior caught in the press. In fact, one comment she made for Vogue in 1990 is often repeated as a generic term to portray the self-centered behavior often assumed top models live every day.

But in spite of comments and other aspects of Evangelista, now 46, continues to rise to the top.

Evangelista is the daughter of Italian parents who settled in Canada. She attended Catholic school and her father worked for General Motors.

She became interested in modeling in her early teens. She entered the "Miss Teen Niagara" beauty pageant in 1988 and lost. However, an agent from prestigious Elite Model Management "discovered" the long-legged teen and her modeling career took off. She went to New York and then Paris.

Her signature short, coiffed hairstyle was unique and different and she received a lot of notoriety for her look.

The 5-foot-nine-and-a-half beauty is also known for her professionalism in front of the camera lens. She signed numerous contracts, including Prada, Christian Dior and L'Oreal Paris. She has also graced the cover of more than 600 publications. Her career was definitely in vogue and she was in the upper echelon of the modeling world.

In 1990, People magazine named her one of the "50 Most beautiful People in the World."

However, her personal life has taken a few missteps off the career catwalk along the way.

As her notoriety grew, so did Evangelista's diva-like attitude, including her now infamous quote for Vogue magazine in 1990, "We don't wake up for less than $10,000 a day." Even today, this phrase is sometimes used to describe supermodels' occasional arrogant attitudes.

Besides what sometimes comes out of her mouth, Evangelista has often hit rocky bumps in romance as well. She was married to Elite magazine executive Gѐrald Marie from 1987 to 1993. She left him for actor Kyle MacLachlan, which didn't last. She was also linked to French soccer player Fabien Barthez. She became pregnant but the baby was stillborn.

Evangelista had a son in 2006, Augustine James, and tabloids had a field day about who was the father.

Last summer, Evangelista was seeking a contract of a different kind. She filed court papers claiming billionaire CEO Francois-Henri Pinault was the father - who just happens to be actress Salma Hayek's husband. He apparently was in a relationship with the supermodel since 2006.

Media reports claim the French businessman's business, PPR, was worth up to $28 billion last year. The company manages such exclusive brands as Yves St. Laurent and Gucci.

Ah, what is a few billion here and there? Last summer, Evangelista was being outspoken again and sought $46,000 a month in child support to cover armed chauffeurs and nannies. Evangelista is still making millions in the modeling industry herself. In court, she says she works long hours and "when I do not work, I am working on my image." Such is the life of a model.

The judge in the case said the amount would probably be "the largest support order in the history of the family court," The New York Post reported.

The outspoken beauty with the drama-filled life always seems to go for it and land on top. While she is taking in the cash and modeling gigs, she is also giving back. She is helping organizations raise funds and awareness about AIDS and HIV all over the world.

As life delivers a few lemons along the way, Evangelista will remain cool and sophisticated- as well as a bit sassy and playful. She plans on doling out lemonade along the way.