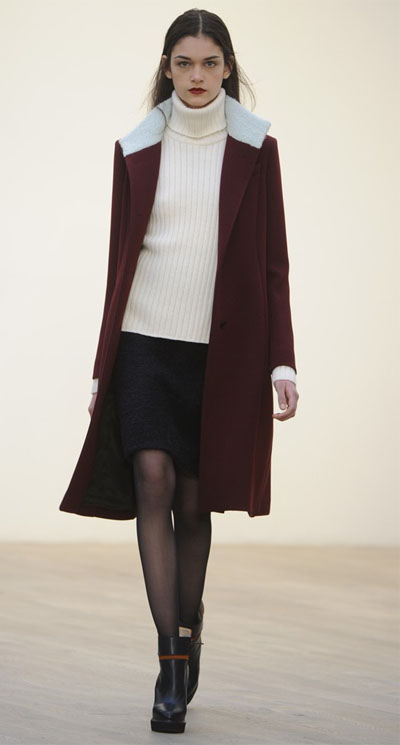 Mulberry, Pringle of Scotland, and Acne show us Fall 2012
"Can somebody please tell the coat check girl that that's my Mulberry fur coat?"

"Miss, we don't have a coat check girl and that is not your coat."

Darn! A girl sure can try! One look at Lara Mullen in a Mulberry for Fall 2012 collection fur coat and you'll be running to your nearest Mulberry store. What's expected to be an "extended wait-list" season at Mulberry stores worldwide is sending buyers into a frenzy to snap up at least one of the limited-edition fur coats, vests, and skirts. What is seen as being on every discerning hipster girl's "Must-Have" list this fall is definitely a Mulberry fur coat and vest.

Adding to the excitement were what looked to be rubberized, long, brightly-colored coats in mustard. For a modern take on a Mongolian woman's traditional coat was what I called the "Spice Route Coats." These coats are brilliantly rendered with an open front, long swinging proportions, a very useful fur hood, and are in a beautiful, modern, delicate brocade print. Probably one of the most wearable coats from the Mulberry Fall 2012 collection was a navy blue slim-line parka with a giant grey fur hood. Once again, bright burnt orange is on display, in a cheerful short puffy bomber coat that also comes in a slick black. This season, Mulberry is to be one of your most decadent fashion indulgences.

Over at Pringle of Scotland, a decidedly more classical color palette was in order. Offering a clean black and white color palette, this Fall Pringle of Scotland is purely "Le Smoking." Accented with asymmetrical red pieces in light, modernly draped fabrics, Pringle of Scotland has you looking forward to easy separates and simply chic frocks for fall. Moving through the collection was an iconic chevron pattern that adorned everything from asymmetrically cut sweaters to slacks to dresses. A particularly collectible coat from Pringle was a longline wool burgundy coat with a delicate robin's egg blue collar and cuffs. It was easily one of this season's most collectible of coats; surely an insider must have wrenched it from a model straight after the show. Alternatively was an orange and navy wool coat, giving Upper East Side girls a run for their money and their traditional camel coat trenches.

What a girl wants this fall seems to be contrast and color and the Acne Fall 2012 collection is giving it to us. Acne showed clothes that were more lit up with neon than an arcade. Coats cut in swarthy proportions, dyed in neon orange, and shown in sumptuous fabrics were pinned with non-contrasting buttons pulled together with a mustard envelope clutch. Continuing along a mustard theme were blouses and slacks in delicate abstract florals floating upon muted cr?me white fields. Pulling in coats, blouses, and frocks were obi belts, constructed of soft leather or knitted fabric embellished with bi-tone colors. For a fresh take on the business suit, Acne presented us with a clean palette of muted asymmetrical pastels every girl will want to wear.