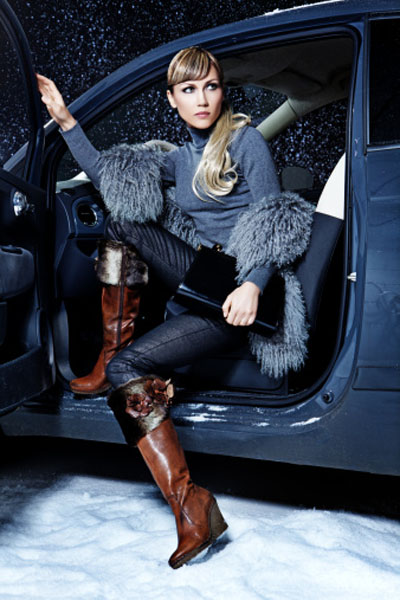 Sexy Winter Girl
Dress sexy for winter with a clingy turtleneck, skinny jeans, and wedge boots. Faux fur never hurts too! | Faux Fur, Snow Bunny,
How to Look Hot Even When the Weather is Ice Cold
While winter may be synonymous with chapped skin, layers of sweatshirts, and big bulky jackets reminiscent of those Ralphie's little brother wears in A Christmas Story, there are plenty of ways to look hot when the weather is frigid. Spring and summer weather may provide a more obvious "sexy," thanks to clinging tank tops and leg-baring skirts, but winter allows for a more discreet type of sexy. Taking off clothing layer by layer (by layer) to reveal bare skin can be just as exciting and sexy as the five seconds it takes to undo a halter top string. Make the cold months as hot as any other season by choosing sexy winter clothing that flatters but still keeps you toasty. Besides, winter weather provides you with the opportunity to snuggle under layers of blankets with your special someone or gives you the excuse to hug your crush for "body warmth."

Save the parkas for the ski slopes and stick to figure-hugging trenches when you need to bundle up. Trench coats belts will remind the world that you do have a waist when stepping out in freezing temperatures. Pair bulkier coats with clingy turtleneck sweaters and leggings for a sexy ski bunny look.

Sometimes you just can't get away from super-thick scarves or those so long you have to wind them around your neck about five times. If your bulkiest/longest scarf is also the most practical (i.e. insanely warm), then balance the bulk by wearing super-tight skinny jeans and form-fitting jackets. Skinny jeans also mean you get to wear tall or short boots with spindly heels, the sexy alternatives to thick boots best left for sledding and snowboarding.

Keep winter headgear in the realm of sexy by looking for faux fur hats. You may not be able to escape hat hair during wintertime, but you can escape the Eskimo look. Winter weather headbands are a chic, sexy way of keeping your ears from freezing off without sacrificing your new 'do. Ear muffs are another option that when paired with rosy cheeks will have you looking adorably sexy.

What else makes winter sexy? Soft fabrics invite those around you to "feel your material," and smoky eye makeup looks dazzling next to a roaring fire or at a New Year's Eve celebration. You can totally get away with heavier eye makeup in the winter, especially since it gets dark out so darn early, whereas spring and summer eye makeup generally call for a little liner and some swipes of mascara. Those with pale skin can celebrate their porcelain goddess look without feeling ashamed of not being able to tan. Rosy blush that gives you that "flushed" look appears super sexy when set against fair skin.

Think of winter as a time to get close, wear touchable fabrics, and put your eye makeup on with a shovel. It'll be warm again before you know it...you might even long for a time when you wanted to get close to friends and lovers without sweaty skin creating a sticky seal between you!